The "Best Corporate Social Responsibility" award goes to the "Molfix Bond with Love Project"!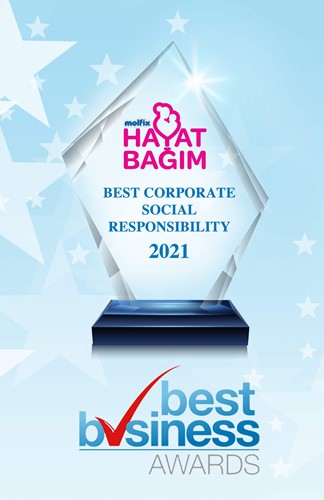 At the Best Business Awards, which is considered one of the most prestigious award organizations in the world, the "Bond with Love" project of Molfix, Turkey's leading baby diaper brand* in our homes, won the Best Corporate Social Responsibility award of 2021.
The 'Molfix Bond with Love' Social Responsibility Project from Turkey won the grand prize in the Best Corporate Social Responsibility category of the Best Business Awards, where the projects carried out by many brands in categories such as social responsibility, communication, marketing, human resources, and sustainability are evaluated by the industry veterans from the United Kingdom.
The Best Business Awards 2021 jury said, "The Turkey-based diaper brand Molfix has implemented a great corporate social responsibility project called 'Bond with Love', aimed at reducing infant deaths due to preventable causes.
Bond with Love is an incredibly powerful project that focuses on educating mothers, midwives and nurses, providing psychological support to mothers, and providing vital medical equipment. The results of the project carried out in 10 cities in Turkey are incredibly positive and encouraging... We congratulate Molfix for providing vulnerable babies better conditions for surviving"

.
Aysel Aydın, Vice President of Strategy and Marketing at Hayat Kimya, said the following about the award:
"Our Bond with Love project is an all-encompassing project for mothers who experience premature and risky births and for unhealthy babies. Without life units, the medical and vital needs of the baby cannot be met. If the mother's psychology is not strong, her baby cannot hold on to life. With Bond with Love, we aimed to connect babies to Life with Love, and we will continue to work for happy and healthy babies by taking our project further in the future."
*According to January-December 2020 IPSOS HTP data, excluding market brands.
Molfix's Bond with Love Project:
Molfix, which supports the happy and healthy development of babies and is a reliable companion of mothers with its innovative approach, set out to raise awareness toward the secure attachment and development of the baby with the "Bond with Love" project and to provide neonatal intensive care units vital equipment support, such as incubators, respirators, etc. With the academic partnership offered by Prof. Dr. Aylin İlden Koçkar, a member of the Infants' Mental Health Association, Prof. Dr. Pınar Bayhan, lecturer at the Department of Child Development at Hacettepe University, Molfix's Bond with Love Project reached out to 5 thousand mothers and babies and 350 midwives-nurses in 10 provinces in Turkey in its first year in an attempt to reduce the infant deaths caused by "preventable causes". With the pandemic in 2020, Molfix started its content studies on "Mother & Baby Health during a Pandemic" as a brand that is the companion of mothers and babies. The project emphasizes that babies born prematurely or unhealthy can be attached to life with love, and emphasizes the importance of secure attachment between mothers and babies, in addition to mothers' awareness about the baby's development.