Molfix's Bond with Love Project receives the Altın Pusula Award!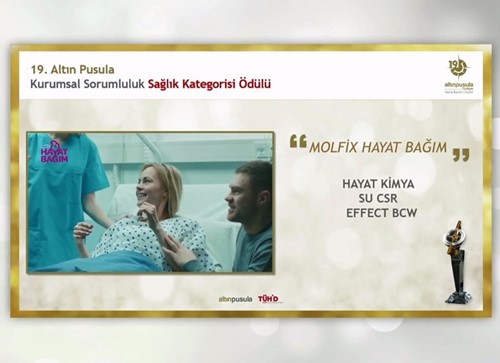 At the Altın Pusula Public Relations Award Ceremony in Turkey, which was held for the 19th time this year, the "Bond with Love" project of Molfix, Turkey's leading baby diaper brand* in our homes, was found worthy of the award in the in the Health subcategory of the Corporate Responsibility category.
At The Altın Pusula where nearly 300 projects by public and private sector institutions and young communicators in 21 main and 27 subcategories were evaluated by the Public Relations Association of Turkey (TÜHİD) under categories such as corporate responsibility, sustainability, non-governmental organizations, internal communication, and best practices, 'Molfix Bond with Love' Social Responsibility Project was deemed worthy of the grand prize in the Corporate Responsibility Health Category.
Aysel Aydın, Vice President of Strategy and Marketing at Hayat Kimya, said the following about the award: "Our Bond with Love project is an all-encompassing project for mothers who experience premature and risky births and for unhealthy babies. Without life units, the medical and vital needs of the baby cannot be met. If the mother's psychology is not strong, her baby cannot hold on to life. With Bond with Love, we aimed to connect babies to Life with Love, and we will continue to work for happy and healthy babies by taking our project further in the future."
*According to January-December 2020 IPSOS HTP data, excluding market brands.
Molfix's Bond with Love Project:
Molfix, which supports the happy and healthy development of babies and is a reliable companion of mothers with its innovative approach, set out to raise awareness toward the secure attachment and development of the baby with the "Bond with Love" project and to provide neonatal intensive care units vital equipment support, such as incubators, respirators, etc. With the academic partnership offered by Prof. Dr. Aylin İlden Koçkar, a member of the Infants' Mental Health Association, Prof. Dr. Pınar Bayhan, lecturer at the Department of Child Development at Hacettepe University, Molfix's Bond with Love Project reached out to 5 thousand mothers and babies and 350 midwives-nurses in 10 provinces in Turkey in its first year in an attempt to reduce the infant deaths caused by "preventable causes". With the pandemic in 2020, Molfix started its content studies on "Mother & Baby Health during a Pandemic" as a brand that is the companion of mothers and babies. The project emphasizes that babies born prematurely or unhealthy can be attached to life with love, and emphasizes the importance of secure attachment between mothers and babies, in addition to mothers' awareness about the baby's development.